Latest News
4 Reasons to Make the Switch to LED Light Bulbs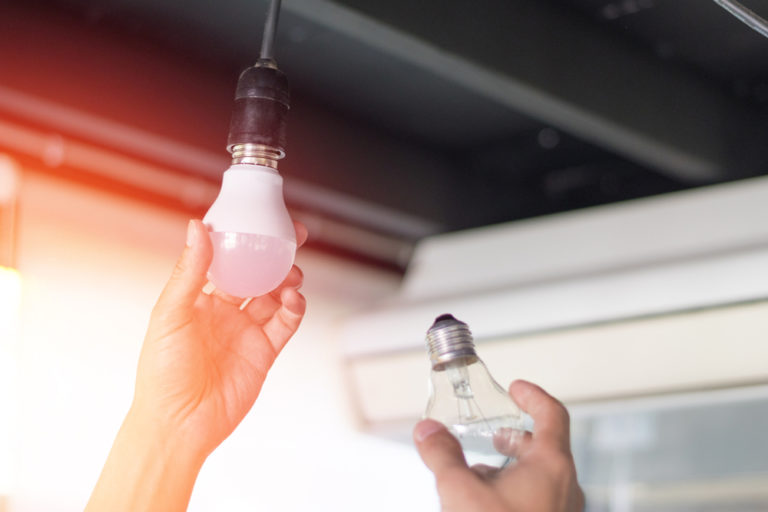 Did you know that a traditional light bulb is like an electric heater? When switched on it will produce heat and only 10% of that energy is actually turned into light! For us, that answers the question of why you should make the switch to LED light bulbs, however if you're still not convinced, we've highlighted a few more reasons why we believe we could tempt you to make the switch.
Longer Lifespan
LED products are steadily replacing traditional lighting arrangements, and for good reason. Not only do traditional "incandescent" lightbulbs have a much shorter lifespan, but they also use excessive amounts of energy and cost a lot more money to buy in the long run. LED lightbulbs are a far superior and more environmentally friendly alternative that can easily be installed in residential and commercial properties alike. A good LED will come with at least a 5-year warranty.
Energy and Money Saving
LEDs are much more efficient than other lighting systems due to the fact that 80-90% of the energy an LED product produces is converted into light. This means that almost all of the energy used by an LED product will be converted to light, not heat. We strongly recommend that everyone consider upgrading to LED lighting as it is one of the most efficient ways to save money on your energy bills and contribute towards greener world. In fact, a correctly tailored LED lighting upgrade by Griff Services Ltd can save you up to 90% on your energy bill. This means your money back in under a year!
Reduce your Carbon Footprint
Research suggests that almost half of our carbon footprint is down to electricity usage and about a quarter of that is down to lighting alone. LED bulbs use up to 90% less energy than standard light bulbs meaning LEDs can reduce overall CO2 emissions, and reduce your carbon footprint.
Colour and Design
You may be used to traditional bulbs that produce a nice warm light; however, LEDs now provide people with a huge choice of coloured lighting. If you're looking for a slightly different shade of white from the traditional, LEDs offer cool, vibrant or warm on the temperature scale. They even offer a range of coloured LED Bulbs including blues, reds, greens and even colour changing LED Bulbs.
If you're thinking of making the switch to incorporate some LED lighting into your home, we've shared some of our favourite interior inspiration of ways you can start by simply adding some LED light strips to your home to create that WOW factor here.
Although more and more people are beginning to appreciate the benefits of LED lighting, there are still a lot of misconceptions and myths going around. We here at Griff Services can shed some light on the most common myths to give you a clearer picture of how LEDs can benefit you here.
Find out more about LED lighting here and contact us for a free installation quote.