Latest News
Energy Saving Tricks for a Sustainable Halloween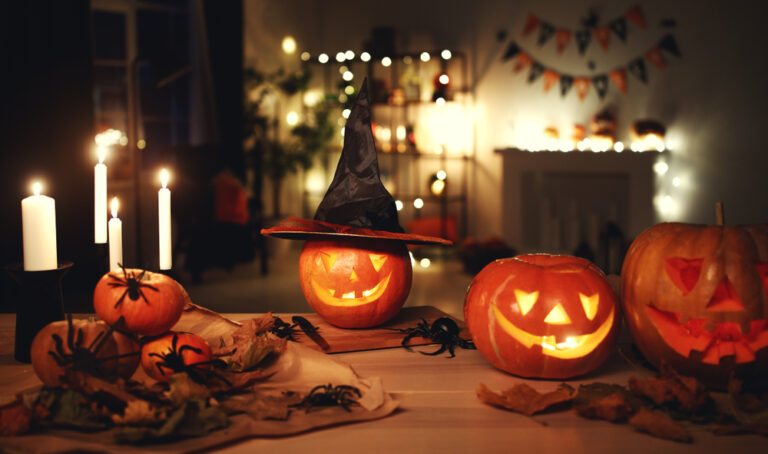 The most terrifying night of the year is almost here and from haunted houses, carving pumpkins to trick-or-treating, Halloween has a lot in store. However, we're not here to spook you. In fact, such celebrations can put a strain on your finances and leave you with high energy bills at the end of the month. In 2017, around £406million was spent celebrating Halloween. A year later, this had risen 5.5 per cent to £428million. Last year, growth was more subdued at 0.5 per cent to reach £431million.
We're here to assure you that you can still have an eco-friendly Halloween without breaking the bank and we've rounded up our top energy saving tricks that will protect you from the frightful utility bills:
Use Outdoor Solar Lights
There is a vast selection of smart lighting that can suit every budget and decoration ideas. Make your house stand out from the crowd by using solar lights outside and attract more trick-or-treat visitors. Alternatively, you can use spot lights to enhance your Halloween themed display and place emphasis on certain decorations from your home, such as a spider climbing over the house or a huge pumpkin in front of your house to ward off the evil spirits.
To set the spooky atmosphere in your house, you can replace your usual bright lights with LED lights which are highly efficient, consuming 75% less energy than incandescents while lasting up to 25,000 hours – a lifespan of more than three years if run 24/7.
Not sure which LED lighting is best for you? Check out our recent blog where we debunk the most common LED lighting myths and let you know why it can help with your energy savings.
Turn off your Electronic Devices
Halloween is a time for celebration and spending it with your family and friends, thus you can leave your electronic devices away for a few hours. However, computers, game consoles or other household appliances can still consume energy even when they're not being used.
 To reduce your electric usage, you should put your devices in energy-saving mode or shut them off completely using a timer strip. Once plugged into a wall, time strips can automatically shut down your electronic devices at designated times during the day, hence saving you money on your monthly electric bill.
Use a Programmable Thermostat
Nearly half of our energy bills are made up of heating and cooling expenses, therefore you should consider using a programmable thermostat to keep your finances in check. Research shows that the average amount you can save using a programmable thermostat is about $130 per year, or just a little over $10 per month.
As a homeowner, you can set a schedule on your programmable thermostat that tells the thermostat to automatically reduce the heating at different times during the day. During your Halloween trick-or-treating, you can use less heating and set the thermostat to adjust its temperature, thus keeping your energy costs low.
Overall, energy efficiency is not only great for helping the environment and reducing the CO2 emissions, but it can teach you how improve your money habits and better your lifestyle.
For more tips on how to become more energy-efficient and make your home eco-friendlier, contact our team today to help you get started.